---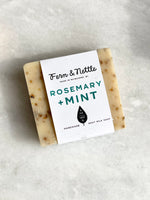 Rosemary is long considered a symbol of love, and considered sacred by the ancient Greek, Roman, Egyptian, and Hebrew cultures for centuries. A blend of rosemary and peppermint in this skin-soothing goat milk soap will awaken your senses and prepare you for the day. Ground pieces of organic rosemary leaves help to exfoliate the skin.

Ingredients: organic sustainable palm oil, organic coconut oil, palm kernel oil, organic olive oil, goat milk, lye, organic rosemary, essential oils

Product Information: Our soaps are handmade using the cold process method in small batches. Bars will weigh between 5-5.5 oz. Due to the nature of the soap, all bars are different and unique. The images are for reference only. Products are made by hand using natural ingredients.
Note: Handmade soap will last a long time if kept dry between uses. Please use a draining soap dish and keep it away from direct streams of water.
*These statements have not been evaluated by the Food and Drug Administration. This product is not intended to diagnose, treat, cure, or prevent disease.